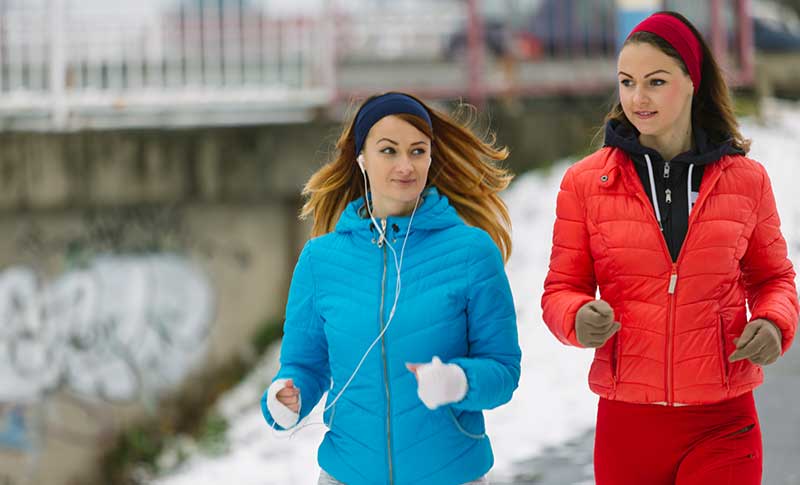 As the days get shorter and the outdoor temperature drops, there's no avoiding the truth: Winter is coming. Many of us dislike the combination of dark and cold and tend to huddle indoors, curling up with a book, binge-watching TV shows or eating carbs for comfort. And, once the holiday season arrives, there's so much shopping, cooking, baking and wrapping to do that there are even more reasons to get away from our healthier warm-weather exercise routines. Add holiday parties and their rich food to the mix and you have the perfect recipe for sluggishness and inactivity.
Holiday Calories and Temptations
This year, don't give in to all of these distractions and excuses: Resist! Your body and your mind will thank you, because you'll be fighting back against all of those additional holiday calories you've consumed and you'll be producing endorphins, the feel-good hormones, through exercise, helping you to combat the winter blues that can be triggered by lack of sunshine and Vitamin D. In addition, you'll fight off the weight gain that can accompany a sedentary winter routine and will find it easy to rock that bathing suit come summer.
Outdoor Exercise
For cold weather activity, dressing in layers is the best approach to remaining warm and dry. You can always remove layers if you are too warm or add layers if you aren't warm enough. The layer closest to your skin should be made of fabric that wicks away moisture; cotton isn't ideal because once it's damp, it remains so. The outermost layer should resist both moisture and wind.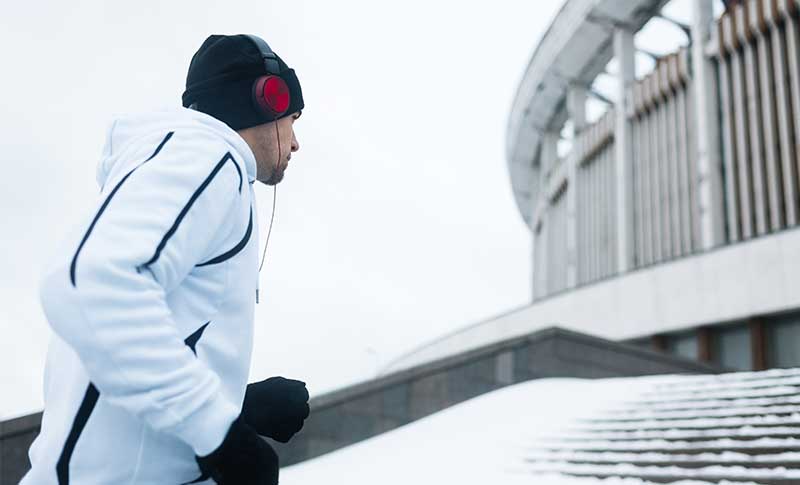 Plan your outdoor exercise during the day, if possible, in order to take advantage of the warmer temperatures and sunshine. Exercising earlier in the day also allows you to check it off your schedule and forget about it for the remainder of the day. If your schedule only allows for exercise in the darkness, be sure to wear bright or reflective outer gear so you are visible to motorists and can stay safe.
Once you're back indoors, unless you're wet, keep your exercise gear on for 10 to 15 minutes as your body adjusts. Losing heat from your body too rapidly can lead to post-exercise hypothermia; your body reduces its production of heat because it's in a warm environment, but it also loses its heat stores rapidly, so don't shock it by stripping down quickly.
Indoor Exercise
For those who don't find the cold endearing, there are many indoor alternatives that will keep you fit during the chilly, dark winter. The gym is an obvious option. Gyms are readily available, and they generally offer exercise equipment for those who prefer solo workouts, as well as classes for those who like some company as they sweat. Try yoga or Zumba or Pilates or all three, for example. There's no need to choose solo exercise over classes or vice-versa; switch up your routine to prevent boredom. Gyms allow you to do it all.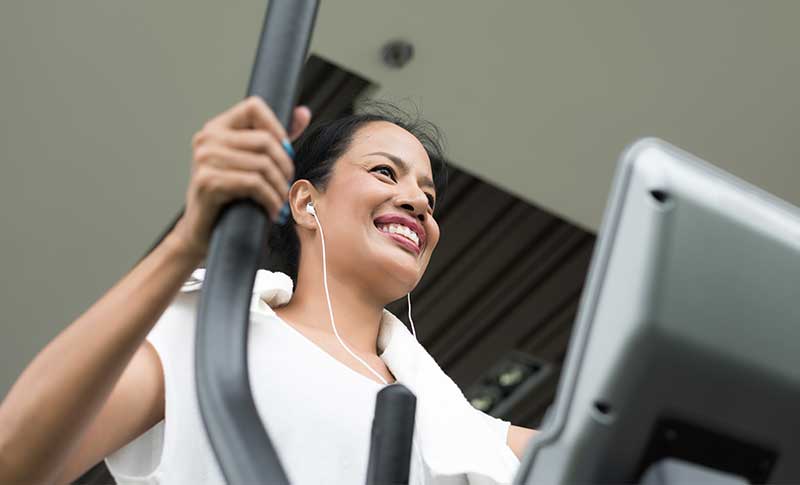 If you are a runner or a walker, treadmills are practical indoor substitute.
Indoor exercise doesn't mean investing in a gym membership if your budget doesn't allow it. Many leisure centres, including the new Hart Leisure offer drop-in fees to use their facilities, which may include a pool, a running track or fitness classes. You can also get yourself a workout DVD; do yoga or an aerobics routine in the comfort of your own home. Walking stairs for a designated amount of time is also a great workout, as is dancing to the radio. Who says exercise isn't fun?
Whether you choose to keep moving outdoors or indoors during the winter, don't forget to stay hydrated. You might not feel as thirsty as you do in summer, but you need water just as much. If you're out in the cold, a thermos of herbal tea is a good substitute; it keeps you warm without any diuretic effects.
Remember, no matter what type of winter exercise you choose, the goal is to continue exercising regularly. Why lose that muscle tone you've worked so hard to build, just because it's cold? There's an exercise for everyone, so no excuses!